The rich orchestral palette created by the rare and exquisite combination of the harp and organ, inspired the musicians to establish a first class musical ensemble whose goal is to present unique and appealing programs of beloved familiar tunes, classical gems and contemporary works.
About the Artist
Ensemble Lafayette      Diane Kinsley, organ and Rebecca Anstine Smith, harp Ensemble Lafayette offers the rare and exquisite combination of the organ and harp in a wide variety of musical styles and repertoire. While every performance includes transcriptions as well as their own arrangements, Ensemble Lafayette also features original music for harp and organ.  In their ongoing pursuit to expand their repertoire, they discovered several beautiful compositions and arrangements by composer Peter Mathews.  Immediately a friendship formed, which inspired more original works, and a commission awarded by a 2017 Grant from the American Harp Society.   Rebecca and Diane have performed in recital series at the L'Organo Festival at Piccolo Spoleto, St. John's Church Lafayette Square, the Washington National Cathedral, a live-streamed recital sponsored by the Musician's Performance Trust Fund, the Annapolis Chapter of the American Guild of Organists, St. Giles Church in Richmond, Virginia, The National Conference of the American Harp Society and the Greenspring International Academy of Music in Frederick.  Diane and Rebecca look forward to future performances in Maryland as newly selected members of the Presenting and Touring Program.              
Artist's Statement
In order to present such varied programs, the artists invest time and energy to research potential works that could be transcribed for this combination, as well as commission new works.  In this ongoing pursuit for new repertoire, they discovered works by American composer Peter Mathews.  The musicians and composer quickly formed both a musical and personal bond, and Peter often attends the world premiers of his enchanting works. Audiences sense Ensemble Lafayette's unbridled enthusiasm and delight in presenting more than just another concert, and listeners respond in kind with standing ovations and leave humming a favorite tune!            
Featured Work
Photos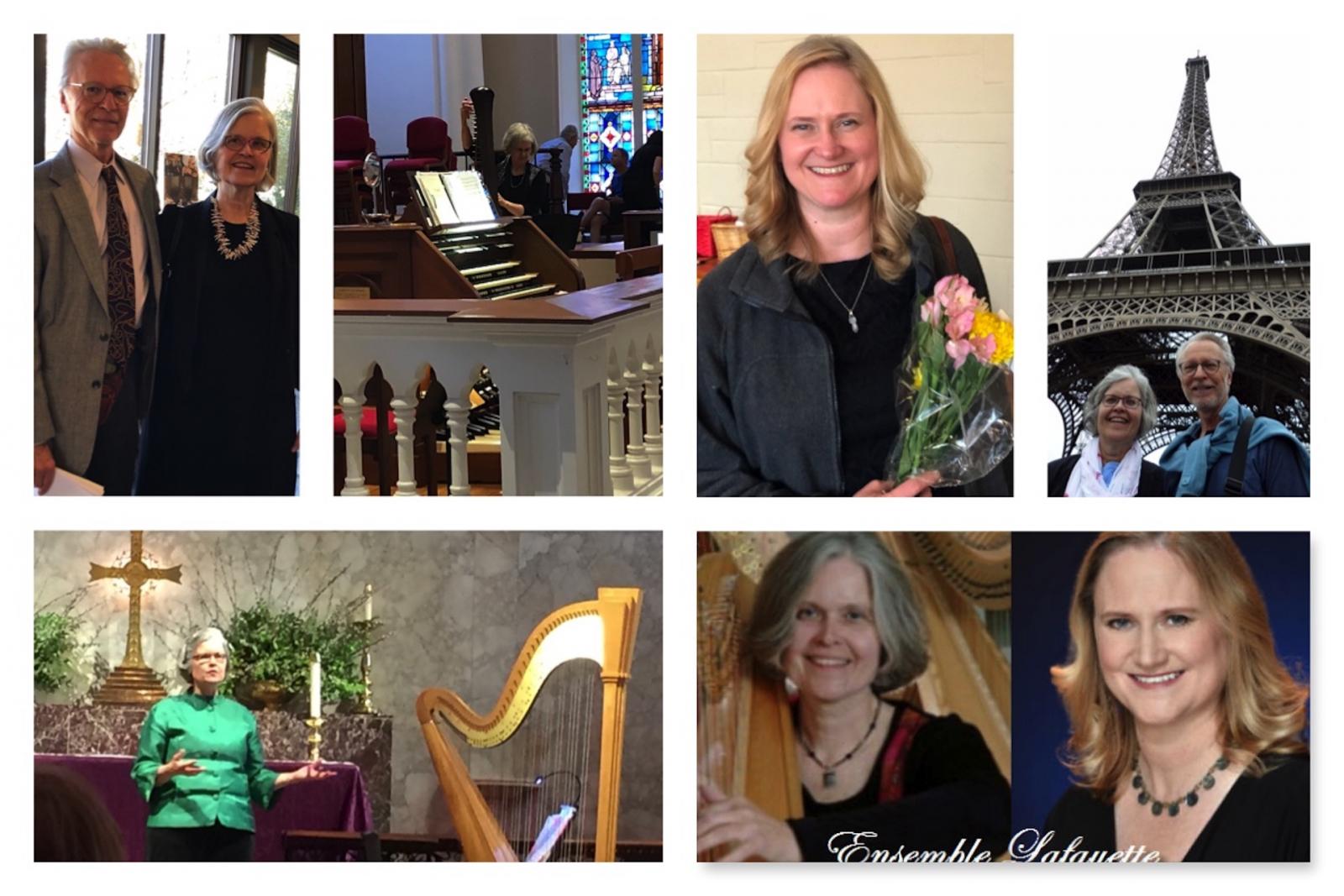 Videos
Idylle by Peter Mathews

See more

information about Idylle by Peter Mathews

Ensemble Lafayette performed the World Premier of this beautiful work in March of 2019 in Annapolis. It is resplendent with French melody and color, and can stand alone or played as part of Peter's Suite Française for harp and organ.

Year: 2019

Details: 5:59

Danny Boy

See more

information about Danny Boy

Rebecca Smith fused a solo harp version with a two harp arrangement of this famous tune to create yet another beautiful addition to Ensemble Lafayette's repertoire.

Year: 2017

Details: 4:25
Booking
Booking Price: $1,001-$2,000
Ensemble Lafayette requires a venue that has a pipe organ which provides adequate space and accessibility (elevator or normal staircase to loft) with approximately 24-36 square feet of open area for the harp, bench and stand. An organ with three manuals is preferred, but two are adequate, a minimum of 18-22 ranks and memory stops are preferred. In order to have the harp blend well with the organ, both confirmation of the pitch of the organ (in relationship to A=440) and of its regular maintenance and tuning are necessary before signing an agreement.